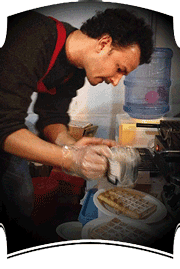 From Belgium with love…
Sieghart Michielsen is a Belgian native living in Shanghai since 2010.
Somewhere in 2013 he decided to give a complete twist to his life and jumped into the Belgian Waffle business!
Nowadays, too many shops claim to have 'authentic Belgian waffles', while not one is coming actually close to the original.
The starting point was to get the REAL authentic recipes that make Belgian waffles so great. Shanghai deserves that!
All waffles are handmade with great care and high quality local and imported ingredients, all following century-old Belgian recipes from all over the country; with the oldest recipe dating back to Sieghart's very own great-great grandmother!
No shortcuts are taken; everything is prepared the real authentic and natural way, without any preservatives or other artificial additives!