Caramel Waffle Ice Cream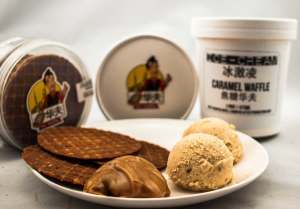 You'll earn 4 Loyalty Rewards
Our signature ice cream! Caramel waffle is the best of both worlds! Ice cream enriched with home-made caramel and generous pieces our Ghent waffle. The waffle crumbles and hint of vinalla, together with the sweetness of the caramel give this ice cream a very unique taste and texture. Maybe just order 2 cups!
We deliver our ice cream within the inner-ring road of Shanghai or you can pick it up from our Waffle Studio:
Studio No. 5, Lane 169 Jiashan Road, Shanghai
Available through Kate & Kimi for excellent frozen delivery in greater Shanghai and Suzhou!
Available through Kate & Kimi here
Size: 1 Pint / 473ml
Product Description
Our homemade ice-cream initially started as topping for our Brussels Waffle, but is now also available separately on popular demand!
We hand make all our ice cream flavours in small batches with only the best ingredients and no artificial flavouring or additives, just like our waffles!
Best consumed within 3 months of production before the natural process of crystallisation starts.
Take it out of the freezer 5 minutes before eating to enjoy it at its' best!