Matcha Green Tea Ice Cream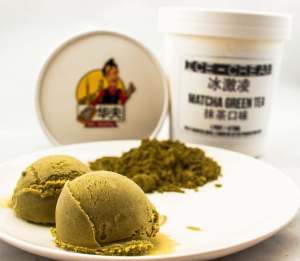 You'll earn 4 Loyalty Rewards
Matcha is a finely milled Japanese green tea that is known to have great health benefits. Put that together with a lower fat ice cream and there you have it: your perfect excuse to have the whole cup for yourself!
We deliver our ice cream within the inner-ring road of Shanghai or you can pick it up from our Waffle Studio:
Studio No. 5, Lane 169 Jiashan Road, Shanghai
Available through Kate & Kimi for excellent frozen delivery in greater Shanghai and Suzhou!
Available through Kate & Kimi here
Size: 1 Pint / 473ml
Product Description
Our homemade ice-cream initially started as topping for our Brussels Waffle, but is now also available separately on popular demand!
We hand make all our ice cream flavours in small batches with only the best ingredients and no artificial flavouring or additives, just like our waffles!
Best consumed within 3 months of production before the natural process of crystallisation starts.
Take it out of the freezer 5 minutes before eating to enjoy it at its' best!